What is the University of Washington Queen Silvia Nursing Award?
Application Period: September 1 – November 1, 2023
Dementia is a profoundly challenging health care issue that affects an estimated 5 million people in the US who are cared for by 15 million family and/or friend caregivers. There is no known cure. The impact of dementia is personal, emotional, economic, and systemic.
Recognizing that nurses could play a key role in developing and implementing solutions that provide compassionate and innovative dementia care options, Swedish Care International in 2013 established the Queen Silvia of Sweden Nursing Award. The award is now presented in seven countries. The UW School of Nursing has been selected as the first academic partner in the United States to bestow the Queen Silvia Nursing Award for dementia care and research.
Created in honor of Her Majesty Queen Silvia of Sweden and recognizing her long interest in and support of dementia nursing, the award is open to any UW nursing student or UW-graduate registered nurse. Applications must include an idea or solution addressing better quality of care for people living with dementia in the health care environment or community.
The recipient will be awarded a scholarship of 6000 euros (about USD $6,500). The award certificate, circumstances permitting, will be presented personally by Queen Silvia at the Royal Palace in Stockholm in the fall. The recipient can choose to use the scholarship award to fund travel expenses for the ceremony. The award recipient will also receive support and mentoring from the UW School of Nursing faculty in applying for additional funding to develop and/or implement their winning idea, and developing the Dementia & Palliative Education Network for Registered Nurses (DPEN-RN) at the UW.
The QSNA was established in 2013 as a birthday gift for Her Majesty Queen Silvia of Sweden in recognition of her long-term commitment and dedication to elder care and the quality of nursing for people with dementia. This year's award will focus on ideas, solutions, and innovations that lead to improved care and a better quality of care for older adults and people living with dementia. The scholarship is awarded annually in Sweden, Finland, Poland, Germany, Lithuania, and Brazil.
Dementia and Its Impacts
Many people who live with dementia reside in the community and are cared for by family and care partners. Some are institutionalized and live in assisted living, nursing homes, and memory care units. People living with dementia are at higher risk for hospitalizations, poor health outcomes, institutionalization, and premature death. The annual estimated cost of dementia care is over $300 billion. In the US, there is a devastating gap in dementia care provision: only 13,000 doctors and nurses receive certification in care for older adults. Therefore, many people living with dementia and their care partners struggle to manage their complex care needs. Therefore, Registered Nurses (RNs), by virtue of their training, can provide the majority of triage, care coordination, and care management required for optimal dementia care. RNs are the key to creating and implementing many solutions for optimizing dementia care and supporting people, families, and communities who are living with this devastating disease.
---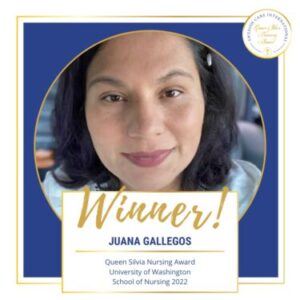 *New!*  Q & A with the 2022 Queen Silvia Nursing Award Recipient
View highlights from Juana's visit to Sweden to meet Queen Silvia!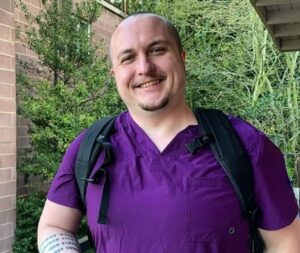 View Michael's QRx Poster for the Science & Engineering Business Association
View highlights from Michael's visit to Sweden to meet Queen Silvia!
2020 UW QSNA Scholar, Brooke Tamble